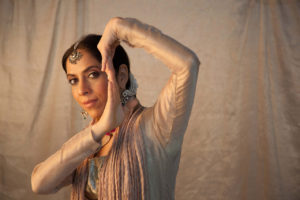 In her younger days, my sister Minal Dharker was an accomplished Bharat Natyam dancer. Watching her practice, rehearse and perform with her guru, Kubernath Tanjorkar, I became reasonably familiar with the idiom of Bharat Natyam. Inevitably, the family ended up watching other dance forms too: Kathak, Kuchipudi, Manipuri, Kathakali, Mohini Attam . . . I remember seeing the best dancers – Yamini Krishnamurthy, Sitara Devi, Sonal Mansingh and many others, and marvelling at their brilliance, the precision of their dancing, the individual flair they brought to nritand abhinaya.
However, after a few years, a couple of things began to grate: the rigidity of form and, even more so, the rigidity of content. Why, I would wonder, wasn`t there a breakaway movement like in Western dance, when the archaic form and content of classical ballet led to the contrariness of Contemporary Dance? Our dancers, in the meanwhile, continued to work unconcerned within their rigid confines, boundaries decided a long time ago which they made no attempt to stretch. To start with, could they at least not change the content, for example in the Padams of Bharat Natyam?
This, incidentally, is not to decry the beauty of our classical dance forms. Anyone who has seen the breathtakingly beautiful Kathak dances choreographed by Birju Maharaj for Satyajit Ray`s Shatranj ke Khiladi, is not likely to forget them. But while Birju Maharaj and others began to move away from solo dancers to choreograph group dances, the form still remained the same. This remained so till the early 1980s, when Chandralekha in Bharat Natyam and Kumudini Lakhia in Kathak began to experiment with both form and content with results which were not always applauded by traditionalists. (Surprise, surprise).
It is said, and I wonder if experts like Sunil Kothari agree, that the impetus for change came from the first East-West Encounter put together in 1984 by German Indophile Georg Lechner, who was then Director of Max Mueller Bhavan, Mumbai (Lechner had been married to Sonal Mansingh, so one supposes, dance was of paramount interest to him). Chandralekha`s post-modern experiments, particularly, were a radical departure, as she fused Bharat Natyam with martial arts like Kalarippayattu and later, yoga too. How radical her experiments were can be gauged from the fact that Chandralekha dyed her hair white, and that many audience members walked out of a performance of Sharira, finding its choreography far too explicit for their liking.
Aditi Mangaldas is a more than worthy successor to her guru Kumudini Lakhia. Some months ago, NCPA staged an outstanding solo performance by her where one was struck by the originality of her choreography and staging. But with INTER_RUPTED, premiered last month at the Jamshed Bhabha, Mangaldas has reached the pinnacle of achievement: INTER_RUPTED is undoubtedly world class.
The awkward title could be replaced by the more accurate 'Intimations of Mortality' because that neatly sums up the theme of the eight dances that add up to INTER_RUPTED. Apparently conceived when Aditi Mangaldas went through a personal health crisis, she began to ruminate on the fragility of our bodies. Mangaldas wants the audience "to view it as a moment, or any moment in one`s life that we so strive to hold on to.. but, of course, all is transient, all is flowing, all is inter_rupted."
However you interpret that, it is clear from that statement that the ideas are abstract and lend themselves to abstract forms (the very basis of Contemporary Dance). But what takes INTER_RUPTED to another level altogether, is its fusion of Kathak movements, blending seamlessly into abstraction. The seven dancers (including Aditi herself), are all extremely – and equally – accomplished, which helps, but the production is lifted also by other outstanding elements like Costume Design (by Japanese designer Kimie Nakano), Light Design (by Italian Fabiana Piccioli, who works with Akram Khan) and music (both live and recorded).
Aditi Mangaldas' INTER_RUPTED, Akram Khan`s several notable performances and Astad Deboo`s recent compositions tell you that this is really the way to go for Indian dance – keep the basic movements of our classical dance forms and marry them skillfully to the abstract forms of Contemporary Dance, with music that is again a combination of Indian classical and Western music. The results are exhilarating, and will have the same impact on the audience, whatever its composition.